Summer Camp 2013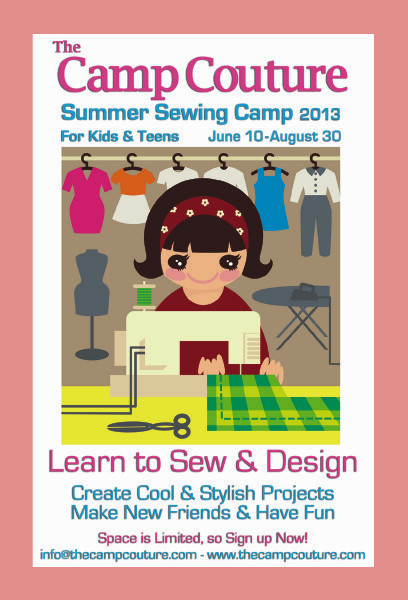 This boutique style camp is an excellent way to empower your child with a useful skill, confidence and self esteem.
At The Camp Couture, students learn basic design and sewing skills all the while making wearable garments in the process are challenging, fun and stylish!Camp Couture sessions are 1 week in length, however you may sign up for as many weeks as you want.We accommodate several different age groups and all levels.Campers ages range from 7 years -17 years.The studio will be open from 8 am -6 pm to accommodate working parents. Please inquire about the extended care options. We now offer several sections. The only difference in the day camps are the duration of the camp length.
*****NEW
We've added a section called The Teen Reconstruction Workshop . The class will focus on the art of reconstruction. Take something old and make it new again. This is a fun class that will not only be creative, but you will learn a lot of technical sewing techniques that will make you an all around better sewer. The hours will be the same as the camp – but a different curriculum will be used. This is a great class for kids aged 13+.
Tuition includes:
All fabric, patterns, supplies, machinery to those that do not have their own machine, and instruction. If you do own a machine, please a working machine so that we can properly teach your child to use your sewing machine. We have machines available for those that need one. You do not need a machine to participate. In addition to the sewing program, we have a photo shoot at the end of the week. Photos from the shoot can be purchased for an additional charge.
Each Friday, which we call "Fashion Friday" and we have a runway show where the students model their self-made creations. We also have a potluck lunch on this day. View the video gallery to see what Fashion Friday is like.
Camp reservations are strongly urged as classes do fill up. Secure your child's seat today.
Summer Camp 2013 Calendar
Please choose a week then a section of times you want to attend. You may attend as many weeks as you want as the curriculum changes weekly to make for a more fun sewing experience. Tuition is due upon registration.
Week 1 June 10- June 14 Session 1
Week 2 June 17 – June 21 Session 2
Week 3 June 24 – June 28 Session 3
Week 4 July 1- July 5 Session 4
Week 5 July 8 – July 12 Session 5
Week 6 July 15 – July 19 Session 6
Week 7 July 22 – July 26 Session 7
Week 8 July 29 – Aug 2 Session 8
Week 9 Aug 5- Aug 9 Session 9
Week 10 Aug 12 – Aug 16 Session 10
Week 11 Aug 19 – Aug 23 Session 11
Week 12 Aug 26 – 30 Session 12
SECTION:
Section A 5 Day Camp :Monday- Friday 9am to 2.30pm $385
Section B 3 Day Camp – Wed-Thurs-Fri 3pm-6pm $185
Section C 1 Day Drop in camp 9am-2.30pm $90
Extended care is available for 8 am and until 6pm daily.Additional workshop hours will be available for those tht want to sew longer. The fee is $20 per hour after the designated camp hours. $15 per hour.
There is a materials fee that is in addition to the tuition. There will be a materials fee in addition to the lab fee of $10 per day.
Kits will be made available for sale and available May 2013.